Where Tiger Traditions and Clemson Pride Meet
Whether you're meeting fellow alumni for homecoming weekend or getting new students together to meet and greet, The Abernathy's Hospitality Suite is tailor-made for your group gathering. Located in the lobby, this 300-square-foot space is ideal for small receptions and private parties.
Business Solutions
1
TAPS Bar & Café
TAPS Bar & Café is a perfect spot to meet friends before a home game, grab a breakfast on the go, or wind down after a day of college touring, or meetings.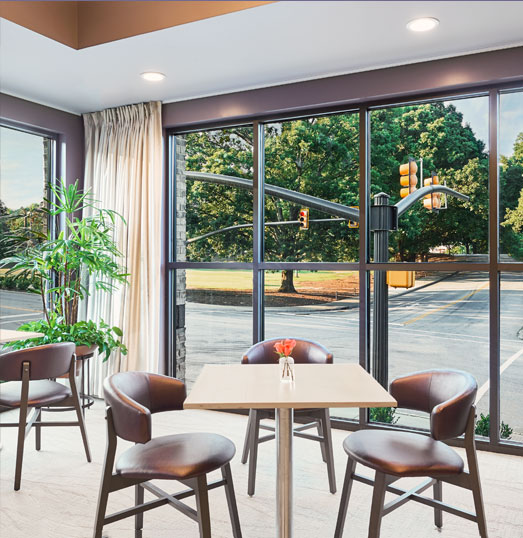 Business Solutions
2
VIP Hospitality Suite
Perfect for small functions from business conferences to alumni meet ups, our VIP Hospitality Suite accommodates up to fifteen guests and presents 300 square feet of flexible meeting space, including a comfortable, well-appointed seating area.
Business Solutions
3
Fireside Lounge
Warm and relaxing, The Abernathy's Fireside Lounge is an ideal location for all sorts of gatherings. Catch up with old friends by the stylish fireplace or sit down for a small meeting amongst the sophisticated decor. The setting is sure to stimulate positive energy.
Private reception space for up to 15 persons
Catered Food and Beverage service designed specifically to planners needs
Complimentary Wi-Fi
Ability for In-Room office set up
How can we help?
We invite you to complete our online request for proposal. We'll be in touch shortly to get started.